.Our mission at St. John's Church in Ashfield is to grow, through worship, in God's gospel of hospitality and wholeness, and to faithfully live that Word in our fellowship, families, communities and the world.  May all who enter here be received as Christ.
Over the years our mission work has appeared in many forms – from housing Cambodian refugees in our parish house until they got settled to supporting two young parishioners, Sarah Branch and Nell Todd, in their Peace Corps work in Namibia and Ghana.
The village in Ghana, Mafi Dove, has remained an important mission since 1997 – with our support going to many different projects.  We have sent clothing to help raise funds for a kindergarten, as well as raised funds to pay for pumps for clean water, household latrines, and fielding a soccer team.  A delegation from St. John's in 2010 brought laptops to create a computer lab in the junior high school.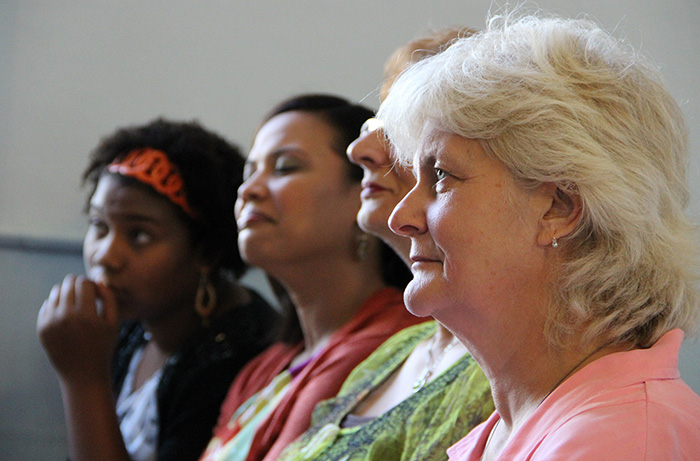 MotherWoman
In January of 2013 the vestry voted to offer funding and space to a MotherWoman group at St. John's Corner.  This group meets each Tuesday from 10 a.m. to 11:30 p.m., following the public school calendar.  MotherWoman provides a support group for mothers of newborns and very young children, with two trained facilitators leading each session.  Free childcare for children up to age 4 and snacks are provided.  For more information, call Anna Westley at 413-625-6948. Click here to link to MotherWoman (www.motherwoman.org)
Memorial Garden
St. John's property is at the heart of Ashfield, contiguous to the Town Common where many town-wide activities occur.  Years ago we dreamed of providing a memorial garden on our land where those in the St. John's community could repose their cremains.  This dream was realized in the summer of 2012, with a beautiful curved stone wall built by the Vieira Brothers and planting designed and donated by Harry Dodson.  The space was blessed by Bishop Scruton in May of 2012.
Other Missions
Today, nearly $10,000 of our small budget goes to mission-related projects throughout the world. We provide additional mission support to Share the Warmth, the Hilltown Churches Food Pantry, Fuel Assistance, Sy's Fund, It Takes a Village, among others.
Outreach
Poetry at St. John's
Over the years St. John's has been the venue for many poetry readings, as well as other presentations.  Richard Wilbur, Galway Kinnell, Sharon Olds, Ruth Stone, Martín Espada, and Aracelis Girmay have all read in our sanctuary.  In 2010, following the death of a beloved parishioner, Ann Browning, Mark Zenick of Shropshire, England, an old friend of St. John's, proposed that we begin a Poetry Series in her honor.  This was accomplished in the spring of 2010, with Richard Wilbur reading, and included a poetry contest for young people, which, each year, has gained more and more entries.  Click here for an application form Ann Browning Application 2016.
Both our church and parish house are very special places for events outside of the Sunday morning service.  Our parish house, St. John's Corner, is an 18th century home which has been newly-renovated to provide handicapped accessibility, an efficient kitchen, and baby-changing facilities. Please contact us at 413-628-4402 if you would like to use our spaces – for retreats, classes, meetings, receptions, and the like. The Ashfield Fall Festival Committee and the Ashfield History Project meet in our space. The following are regular events at the Corner House:
MotherWoman – Tuesdays at 10 a.m. during the school year – support for new mothers with free childcare and snacks.
Al Anon – Mondays at 7:30 p.m. – this group has been meeting at St. John's for over 20 years.
Centering Prayer – Wednesdays from 5:30 to 6:30 p.m.
Osteoporosis Class – Thursday from 9:30 to 10:30 a.m.
Central Drop Off Point
As we are located in the center of town and our church doors are open, the narthex (vestibule) of St. John's is the primary drop off point for
Food for the Hilltown Churches Food Pantry
Winter clothing and blankets for Share the Warmth, the community organization that provides all manner of assistance to people during the cold months
Seasonal clothing for the annual clothing swap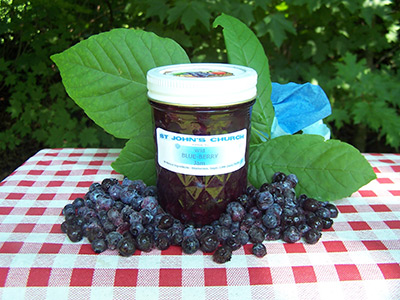 Blueberries
Every year, since the first days of Ashfield's Fall Festival, parishioners make blueberry delights — dozens of batches of blueberry cobbler, blueberry muffins, and many jars of blueberry jam – for sale.  These delicious and antioxidant-rich offerings have become famous far and wide as people line up annually at St. John's tent over Columbus Day weekend for their beloved treat.